June 2013
Summary : The show / Our impressions / … and pictures
The show : Tango Production et Showspace produce The Extra Terrestrials, a Tour in 3 cities of South India. The audience is fascinated by the show which perfectly fits the publicity : "90 minutes of WOW guaranteed ! 9 breath-taking international acts".
read more below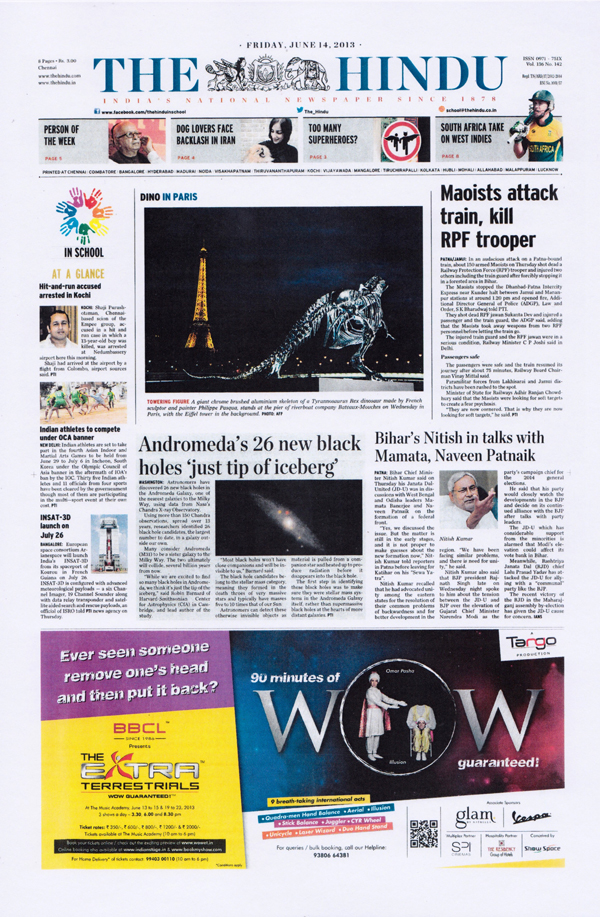 Omar Pasha announced on "The Hindu" newspaper front page, 06.14.2013
On the bill, besides Omar Pasha :
Sanddornbalance : balance of multiple stacked branches, from Switzerland
White Gothic : acrobatics and hand to hand, from the Ukraine
Pavel Yuskevitch : juggler, from Russia
Valérie Laplante : Cyr wheel, from Canada
Donovan Jones & Rebecca Peache : acrobatics and aerial duo – 2 acts – from the UK
Thomas Baratin : laser act, from France
Erik Ivarsson : unicycles, from Sweden
The highly attentive and enthusiastic audience is transported by the Pasha's tale and the magic effects. Louis is very happy with the response from the wonderful Indian audiences.
After the performances, some spectators wish to speak with Louis. The Artistic Director brings them backstage. They converse in English or the Director translates. Among others, a mother and daughter are delighted : "You gave my daughter a month of wonderful dreams ."
read more below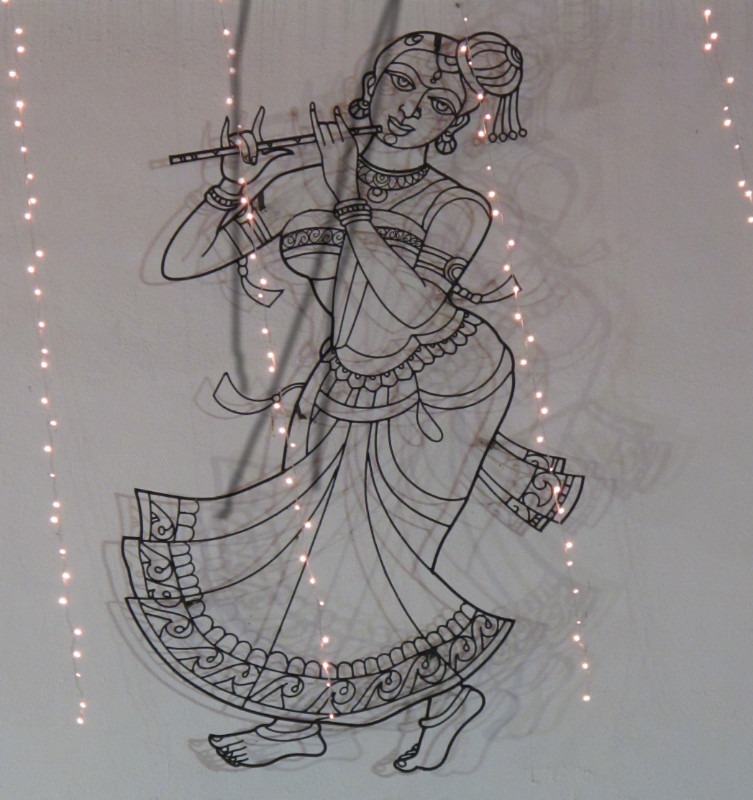 Artwork at the housefront of the Music Academy theatre
After each show, the producers have provided two ways for the audience to express their responses :
writing on huge white panels with felt pens
an invitation to ring a bell hung at each exit if they liked the show.
At the conclusion of every performance, audience members crowd to write on the panels and the bells ring for a long time.
read more below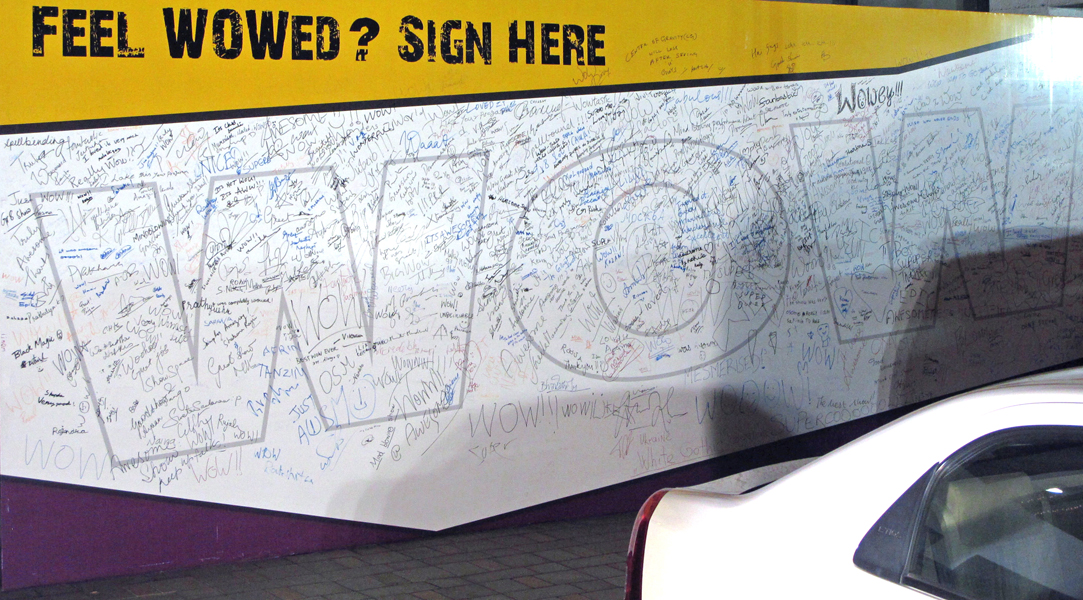 Panel with spectators' comments written after the shows
read more below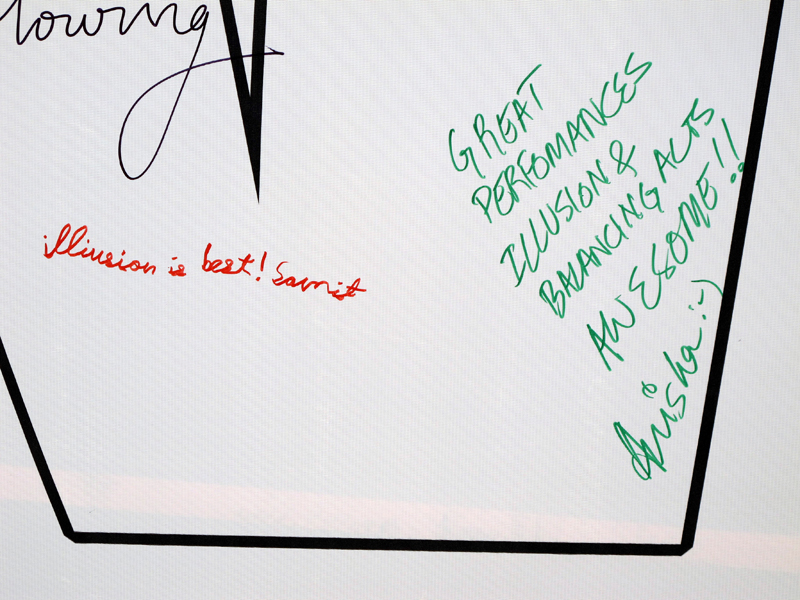 Panel's detail
Our impressions : Countries like India fire the imagination. In this way, India is prestigious places, major historical events, real and legendary figures, huge crowds and ancient ways of life co-existing with leading edge technologies.
We land in Chennai. Props setting, rehearsals and … 3 shows per day. What can we see in Chennai (previously called Madras), capital city of Tamil Nadu state ? There is no time for sight-seeing ! Our view is limited to the street scenes between our hotel and the lovely Music Academy theatre.
In 2013, Chennai's population is more than 7 millions people, mostly Tamils. (Three years later, it already has 8.2 millions inhabitants …) It is the 4th largest city in India.
From our production minibus each morning and evening, we crawl through the rush hour. Always crowds of people, dressed both traditionally and in western clothes. Ever more people emerge from small lanes to join the throng.
read more below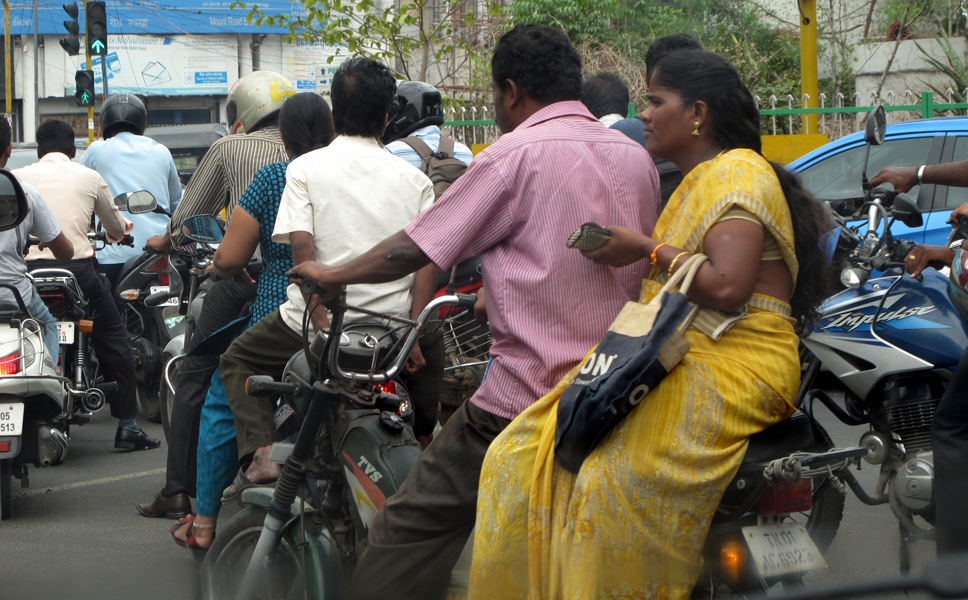 Rush hour, during our way to the theatre
Through the crush, children walk to school beautifully dressed, the boys with uniforms, the girls with clean and ironed dresses and aprons, with nice ribbons in their hair. At the bus stops there are long queues.
Skinny cows roam through the crowds, looking hopelessly for a scarce grass to graze in the huge urban development. We were told they were not sacred and their owners would know where to find them later ! The streets and avenues are lined with all kinds of buildings There are small temples, churches and office buildings for the smallest enterprises and the largest international companies. We notice numerous eye clinics. Walls screen wealthy properties and also neglected grounds.
read more below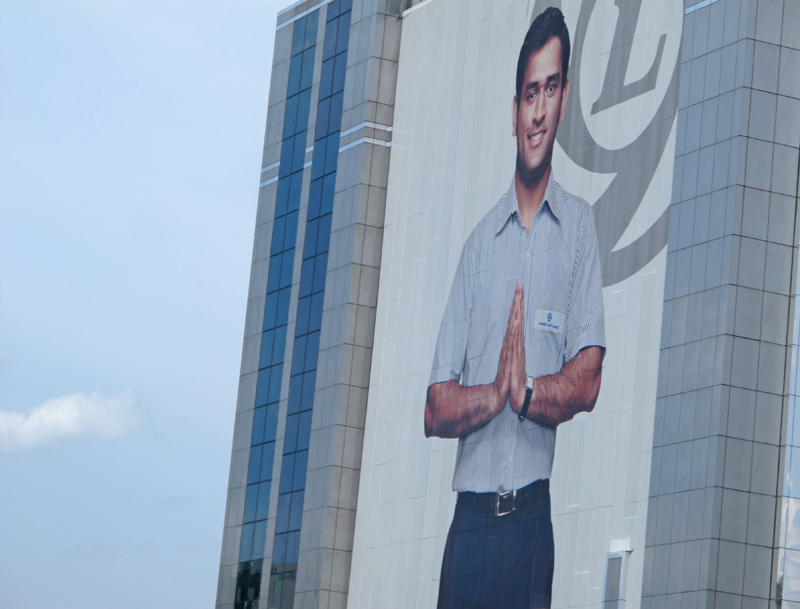 Office building
There are vehicles of every description from luxury models to antediluvian carts with incredible loads. Whole families balance on bikes or scooters as they endeavour to make their way to their destinations. Draping themselves with whatever is available, bikers protect themselves from the heat which is like a furnace.
read more below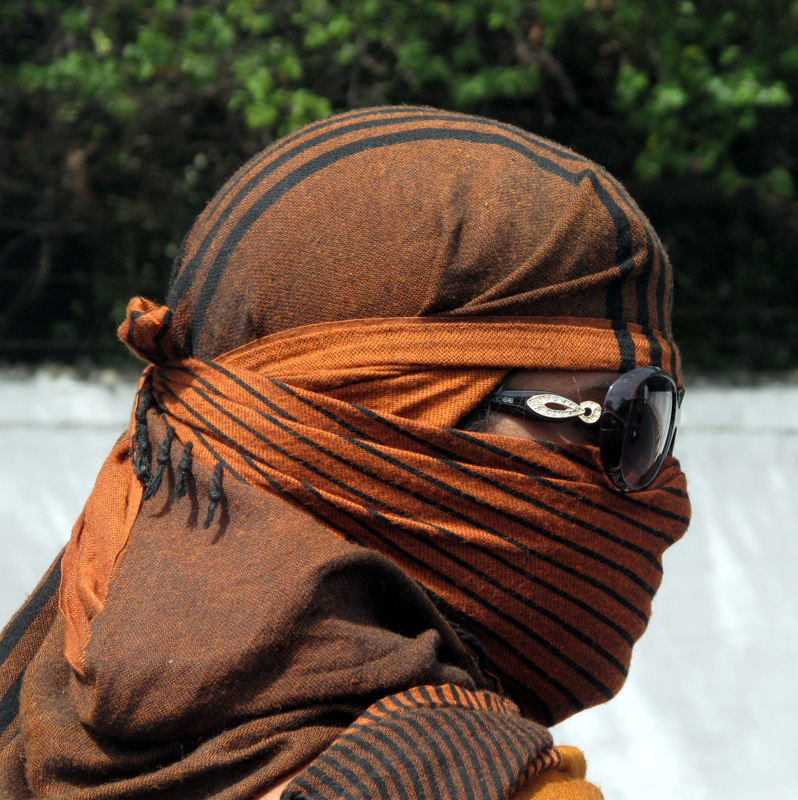 In the traffic, a woman on a scooter is trying to protect herself from the furnace
The vehicles are nose to tail. One driver, even more in a hurry than the others, shifts forward and accelerates through the oncoming traffic. He is just blocked by yet another traffic jam.
Dust bathes everything and everybody.
Arriving at the theatre, we feel almost dizzy from this maelstrom.
Please, read also our informations and impressions about our Indian tour and see more pictures on the Bangalore and Coimbatore pages.
And see also more pictures about those three cities in the GALLERY section, click : "India, 2013"