December 1997 to November 1998
A small stage decorated as a cavern. Reference to the volcanic islands of Hawaii. A dinner show with Hawaiian girl dancers and 4 visual acts. A good idea to mix the traditional Polynesian image with all kinds of visual acts. Co-produced by Outrigger Hotels (more than 30 hotels on Ohau Island, plus many on other Hawaiian islands and overseas) and famous Japanese production Yoshimoto Company.
read more below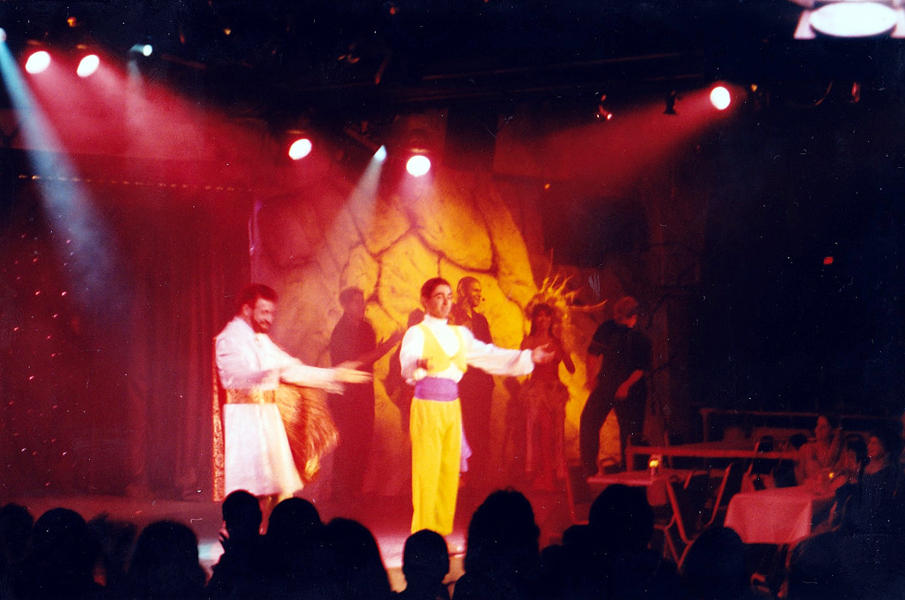 Bowing at the finale of the show – Outrigger picture
read more below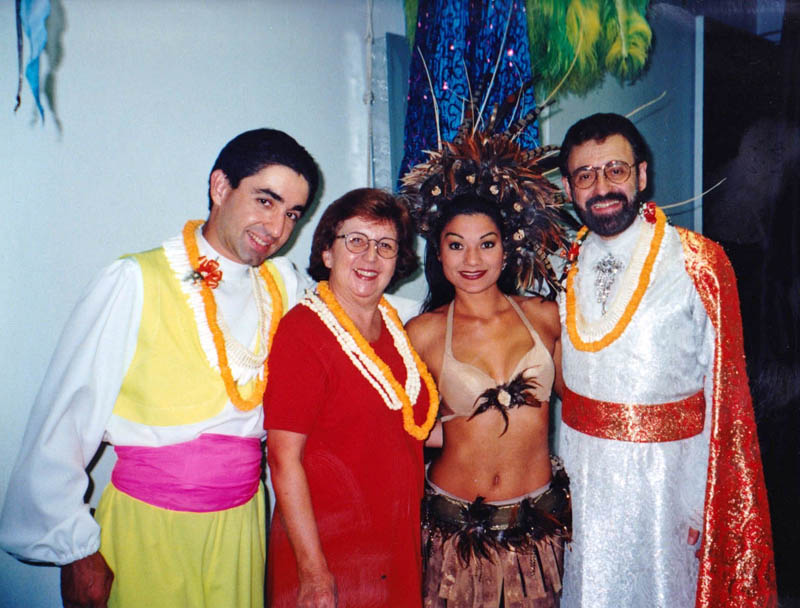 With Christa, one of the Hawaiian girl dancers, who is also our girl assistant – picture X
read more below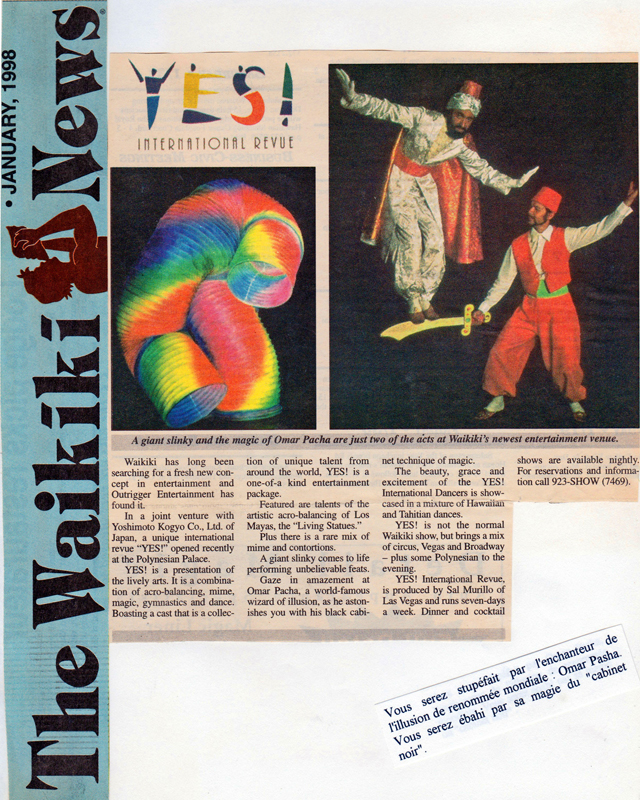 Hawaii Press
Other good and interesting shows at Honolulu/Waikiki include the magic review from John Hirokawa and musical entertainment with "The Society of Seven". Thank you dear friends and colleagues for these nice evenings.
Very interesting Magic Convention at the Ilikaï Hotel. We have the pleasure to meet again the Japanese Shintaro Fujiyama, who performs the beautiful butterflies act and gives a very interesting lecture.
After the show, we have a nice supper at our apartment with him and two of his female assistants and students. Shintaro enjoys the French meal and likes the French songs we play from records. Very nice evening and memories from the Convention we did for him in Tokyo.
The I.B.M. Ring (magic circle) of Honolulu invites us to meet members on one of our weekly days off. Many people attend this reunion. We have an informal talk about our professional experience of stage and travels. Very nice evening with mainly young enthusiastic magicians.
Hawaii : an other paradise for holidays and for surfers. An economy entirely dedicated to tourism, which makes the Islands quite vulnerable to the world's economical and political events.
read more below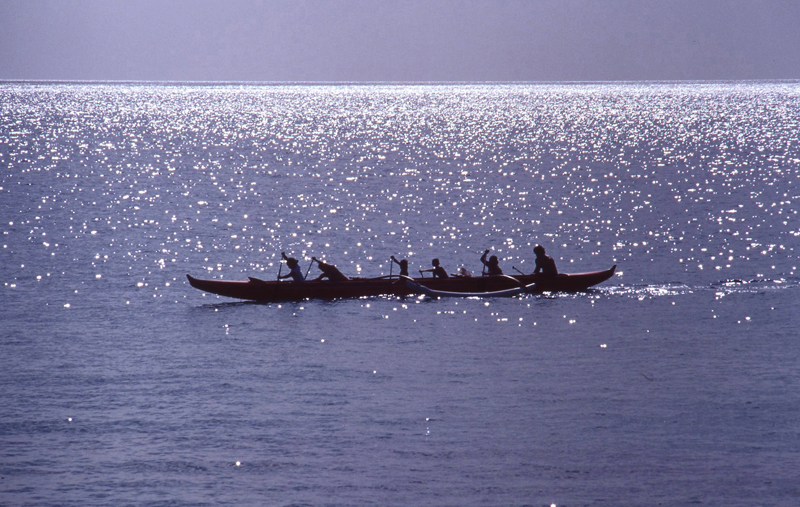 Local rowers
read more below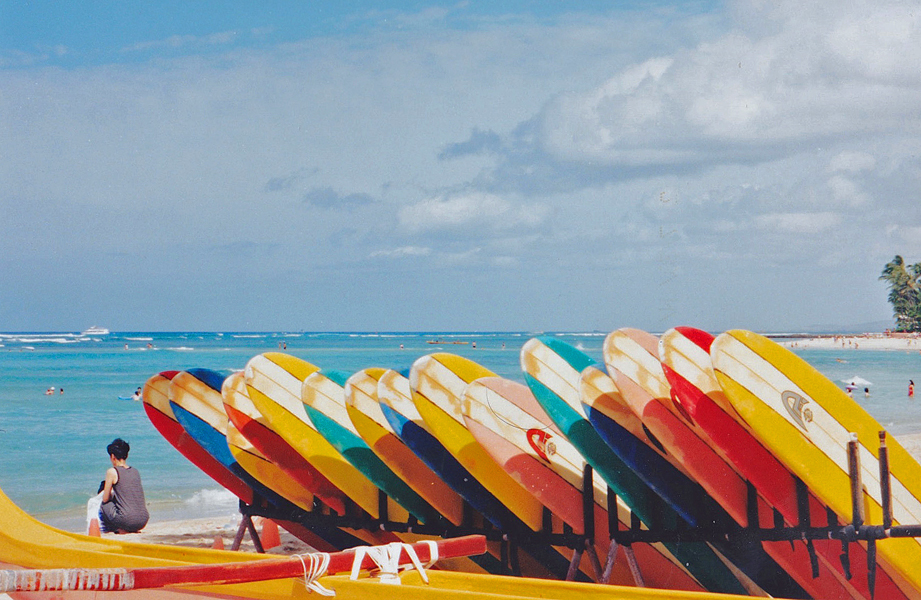 Longboards on Waikiki beach
Inexpressible pilgrimage to Pearl Harbour : the start of the war between the United States and Japan. The place is reverently visited by the Americans and also by many Japanese.
We also have the privilege to visit the Missouri warship just arrived in Honolulu after a long career at sea. On board of this vessel was signed in 1945 the Japanese surrender.
In this manner, two incredibly strong places and witnesses of the 2nd World War, the start and the epilogue, were together.
Gathering those facts, and remembering our visit at the Hiroshima's atomic bomb spot is a strong memory and emotion we will never forget.